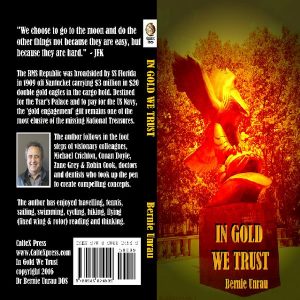 "In Gold We Trust" c2016  150 pg action adventure illustrated 033, 90 pg screenplay  082
ebookstore   https://www.amazon.com/dp/B06XKQC3V4
Gold, the precious metal the founding fathers of the original 13 colonies treasured as dearly as The Declaration of Independence, aided in laying the groundwork of the pioneers, the men that made America Great and set the United States of America on the right track to become the greatest nation on earth. The leading power, the most innovative, entrepreneurial melting pot of minds, God given abilities and talent the world has ever seen, left to pursue life, liberty and happiness. The precious metal has become so intrinsically woven into the fabric of every aspect of the American way of life, it has touched the lives, hearts and minds of each and every citizen. Yet one of the greatest unsolved National Treasure mysteries remains, the elusive Tsar's Treasure, a $3 million 'gold engagement' shipment of mint $20 US gold double eagle coins destined for the Tsar's Palace and to pay for the US Navy, was lost. Allegedly the specie was stashed in the cargo hold of the RMS Republic that went down in shark infested waters off Nantucket Island after she was broadsided by the SS Florida on Jan 24, 1909 three years before Titanic. A highly speculative convoluted trail of clues has caught the attention and imagination of our treasure hunters who are dying to discover, give their hearts and minds to this most challenging of endeavors, willing to give their lives and even their very souls in search of the elusive gold. Inspired by National Treasure, Book of Secrets, Paycheck & Tower Heist.
Bookstore: https://www.amazon.com/-/e/B081M9Y1J9 
Treasure of the RMS Republic. New York MSVHQ 2009 http://www.rms-republic.com/index1.html
"Secrets" by One Republic   https://www.youtube.com/watch?v=HsnvlhrdqAA
The cover image of a golden eagle landing was inspired by the East Coast War Memorial in Battery Park, at the tip of Manhattan NYC. Administered by the American Battle Monuments Commission, it is one of three memorials commemorating US servicemen who gave their lives in coastal waters off the Atlantic Ocean. The others are the West Coast Memorial in San Francisco and the Honolulu Memorial.