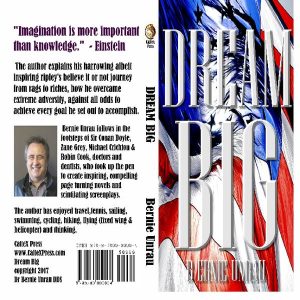 DREAM BIG  copyright 2017  non fiction book  037  81 pages, illustrated.
ebookstore   https://www.amazon.com/dp/B072FVMYPS
Truth they say is stranger than fiction. In this Ripley's believe it or not tell all rags to riches tall tale, in the face of extreme adversity, injustices and financial hardships, his resourcefulness, persistence, and sheer perseverance coupled with an incredible imagination overcame every obstacle in turn. His proven track record of accomplishing every goal he ever set out to achieve is an inspiration to everyone. If you believe, with all your heart, you too can achieve anything your mind can conceive. You don't always get what you wish for but YOU ALWAYS GET WHAT YOU WORK FOR. DREAM BIG! His life reads like an amalgamation of the movies 'Risky Business', '21', 'Big Fat Liar', 'Westworld' TV series, 'The Firm' , 'The Majestic', 'Top Gun' and his own specially crafted, slowly aged blended concoction for a 30 + year overnight success. His mistakes became the stepping stones on his road to the realization of his dreams "…for whatsoever a man soweth, that shall he also reap." Galatians 6:7-9 KJV. Citing countless quotes from inspiring people who dreamt big, overcame immense obstacles and made significant contributions in every sector of society, the author takes you on an insightful unscripted, serendipitous journey, marked by an insatiable curiosity, a clear conscience, sound scientific reasoning, a sense of justice, never giving up, that ultimately led to success.
21 trailer    https://www.bing.com/search?q=21+trailer&PC=U316&FORM=CHROMN 
Risky Business trailer   https://www.bing.com/search?q=risky+business+trailer&PC=U316&FORM=CHROMN
Big Fat Liar  trailer   https://www.youtube.com/watch?v=FMVHm-KFXA8
The Majestic  trailer   https://www.bing.com/search?q=the+majestic+trailer&PC=U316&FORM=CHROMN
The Champion – Carrie Underwood   https://www.bing.com/videos/search?q=champion+carrie+underwod&view=detail&mid=938A3F9317D0DC89C6D3938A3F9317D0DC89C6D3&FORM=VIRE